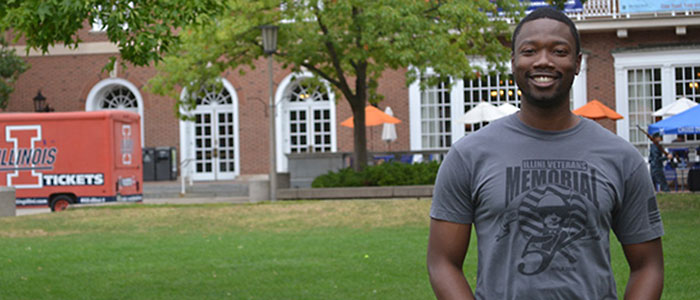 Ready to Apply
Contact Us for Individualized Guidance
1. Apply for admission
Visit the relevant admissions website below and review the admissions requirements and application procedures. You can access the online applications and printable application materials (where applicable) through these sites:
2. Submit ALL necessary test scores and transcripts
Students are required to submit transcripts for high school or GED test scores and any postsecondary coursework completed. Official transcripts must be submitted directly from the institution where the coursework was taken.
If you believe you have taken military coursework for which Illinois awards credit, be sure to submit a copy of your DD214 and your military transcripts available at the Joint Services Transcript System for Army, Coast Guard, Marine Corps, and Navy or The Air University for the Air Force. Please be mindful that the University of Illinois offers limited credit for ACE accredited military training. Read more on this issue.
Undergraduates can submit transcripts electronically as PDFs or through U.S. mail to:

Office of Undergraduate Admissions
University of Illinois at Urbana-Champaign
901 West Illinois Street, Suite 103
Urbana, IL 61801

Graduate students must upload their transcripts directly to the online application.
You are required to send standardized test scores if you have less than 30 graded transferable semester hours of college coursework at the time of application: ACT (code 1154) or SAT 1 (code 1836) scores are accepted. We highly recommend you submit test scores if you have 30-59 graded credit hours. Scores must be sent directly from the testing centers to be considered official; they cannot be taken from high school transcripts or student reports.
Send final transcripts to the Office of Undergraduate Admissions as soon as final grades are posted. You must send official documentation of all courses/grades submitted, including 12th year/high school by July 15.
**Note: The University of Illinois does not award credit for CLEP tests, but if you believe you deserve credit in a particular subject, you may be able to take departmental placement and proficiency exams at Illinois to receive appropriate credit or placement.
3. Complete the Free Application for Federal Student Aid
In addition to VA benefits, Federal, state and institutional student financial aid programs are available to cover your cost of attendance. The first step in determining your eligibility for these programs is to complete the Free Application for Federal Student Aid (FAFSA). Veterans Education Benefits do not count against your financial aid eligibility.
Apply even if the priority deadline date has passed, as there may still be funds available, and have the FAFSA information sent to the University of Illinois at Urbana-Champaign (Federal School Code: 001775), if you have not done so already.
Please review the information found throughout the Office of Student Financial Aid (OSFA) website to learn more about the financial aid programs and processes.
Office of Student Financial Aid (OSFA)
620 E. John Street
Champaign, IL 61820
Hours: Monday–Friday, 9 am-5 pm
(217) 333-0100 (Phone)
(217) 265-5516 (Fax)
**Note: Your undergraduate application and FAFSA will help determine whether you qualify for federal, state, or institutional aid, as well as merit-based scholarships. Please visit Scholarship Information on this website for more veteran- and dependent-specific scholarships.
4. Claim IDs/Passwords and Check Financial Aid Status
After you have submitted your FAFSA, a Financial Aid Award Letter will be generated, generally in mid-March, telling you what financial aid you are eligible to receive. Once you receive your Notice of Admission letter, you will be able to access the Electronic Financial Aid Award Letter and other financial aid information online before accepting your offer of admission.
In order to check your financial aid status, you must claim and set your IDs/passwords, such as your NetID and NetID Password, and Enterprise ID and Enterprise ID Password. You will frequently use these to access resources on campus. To claim and set your NetID and NetID password, you need your Admit ID and University Identification Number (UIN) located on the back of your Notice of Admission letter.
**Note: You do not have to accept your offer of admission to set your IDs/passwords and view your award letter.
As you can see, applying to the University of Illinois is a process that involves several steps. Center staff are available to help simplify the process and offer individualized guidance. Please fill out this form, and a staff member will contact you within a week to help you with this process.